As promised here are some pictures of the before and after...
Before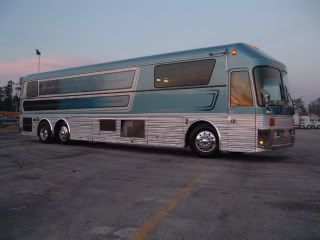 And the after...Gertrude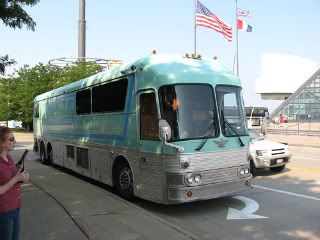 Here is a interior shot when they were setting up for the photo shoot..
This is what is painted inside the crown above the driver and stairwell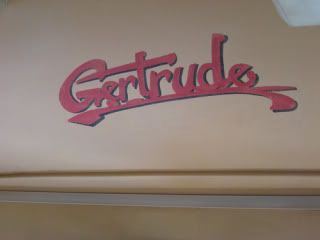 Fox did an extensive makeover to the interior as well as the outside...the original interior was sent back on several pallets, and they had a crew of 50 people re-do the interior and exterior in one week at the expense of over $50,000. The interior is totally hippie ...fake fur ..wild colors ..bead curtains ..avacado green etc. The interior has stains and appears to be very worn ..but it is all fake. All of the electronics were replaced with old 8-track type equipment which most is non functioning. The front end is of course Model 01 as well as the rear end which has the round taillights and Model 01 rear bumper.. the rear of the coach has about 30 bumper stickers which say all sorts of stupid stuff like .."if you can read this Ive lost the trailer"...Rock and Roll ..etc
She runs real good with a rebuilt 6v92 and the ZF auto ..to date she has 723,000 miles with the usual Eagle quirks ...but Dan can attest the suspension is still sitting good with plenty of adjustment left ..LOL!!
As you can see in the pictures Fox added the window on the curb side at the dinette booth and repainted her in Imron Chroma base, but did not clear coat it. Instead they scuffed the entire bus with scotchbrite to make it appear old and faded ...and it worked. The stripes are not painted ..they are tape. Fox also applied the "movie magic " to the siding making it appear weathered and quite distressed as well as the alcoas. My project over the next several months is to take acetone and scrub off all of said magic on the siding and wheels because nothing else takes it off.
She really has a cool vibe to her and you cant help but smile when you check her out ...she really is one of a kind ...and maybe ..just maybe she might show up at one of the rallies in the near future !!