I am listing this for Buck. If you have any questions about this beautiful bus you can either reach him at the e-mail listed or PM him here on the EI forum.
One of the few Monaco conversions of a new Eagle shell . Built in 1988, sold new 1989. 470 hp. Detroit diesel , 5 speed Allison automatic, P.S. , cruise control, factory raised roof , high driver, and many other refinements only included in the Motorhome shell. We have three basement Cruise Airs, dash air, dishwasher, trash compactor, washer dryer, icemaker, motoSat satellite receiver, 12 KW Onan generator with low hours, Wabosto hot water heat with electric backup.

In 2005 this coach had major renovation that included new aluminum siding, new Zip Dee awnings color keyed to the new cool vanilla clear coat paint, window treatment , upholstery, and carpet. The third owner of this West coast coach has maintained it to aircraft standards. It also has a fresh out of frame W.W. Williams engine overhaul, fresh drop box, and a refurbished Webasto furnace. Total coach miles, 203K.

If you would like to have a CLEAN, STRAIGHT, RUST FREE 102 wide TURN KEY EAGLE. This is the one. $ 110K.

Contact: Ronald "Buck" Bolding

Phone: 3-6-0-7-2-2-1-8-8-7
or 9-2-8-6-8-5-3-1-9-5
E-mail: buseagle15 at yahoo.com
P.O. box 327 Aguila, AZ. 85320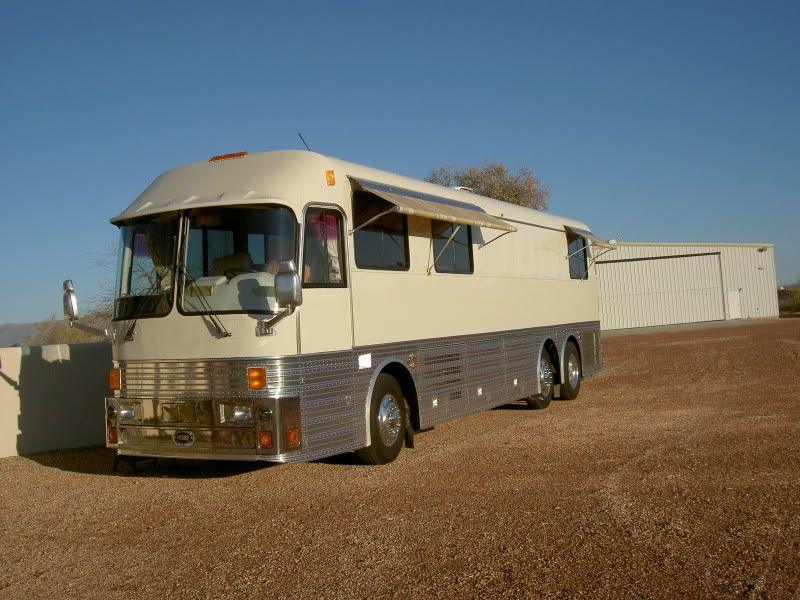 Click
HERE
using
Internet Explorer
to see a slideshow of this beautiful Eagle. This slideshow will not work with Firefox.
EDIT**
Here is a slideshow that everyone should be able to see...